Dealing with absences and calculating holiday pay
Dealing with absences and calculating your businesses' holiday pay for employees is an important part of organisation that can effect crucial areas such as productivity, morale and overall reliability. Making your system one that is attractive yet efficient to your company's needs is key, so if you need help with figuring out just what your policies should be then read on.
Research has found that UK workers have an average of 9.1 days off from their jobs each year because of sickness. This can have a dramatic effect on your organisation, especially if you are a small business. Most workers who work a 5-day week must receive 28 days' paid annual leave per year. This is calculated by multiplying a normal week (5 days) by the annual entitlement of 5.6 weeks.
Not only does sickness absence effect costs but it can have a dramatic effect on your organisations profitability too, for example if clients are let down. On top of that it has been known to effect team spirit and employee moral if there is an employee who is constantly absent because it increases everybody's workload. Giving the proper amount of holiday pay can directly affect the amount of time they take off, it gives employees something to look forward to, a break from stress and decreases the amount of days off sick through work related stress or illness.
Law – The first things to consider are the legal requirements that must be followed. Everyone in UK full-time employment is entitled to a minimum of 28 paid days off a year. When factoring in bank holidays you CAN, but don't have to, count them as part of your company's policy. If you do count them as part of the 28 days, then that is legal. A tip for calculating holiday pay is that you must always round up if there is a half day that an employee has entitled to them, furthermore it goes without saying that these 28 days must be paid holiday leave.
Any extra given by the company is known as contractual leave entitlement which can be part of employees contract if agreed upon their hiring. Statutory paid holiday entitlement is limited to 28 days. Staff working 6 days a week are only entitled to 28 days' paid holiday and not 33.6 days (5.6 multiplied by 6). Part-time workers, people starting part way through the year or even people who take a large section of time off for the year, are entitled to different requirements. To access the UK government calculator then please click this link. For a detailed breakdown of the different types of leave please follow this link.
When considering when to discipline a staff member for continued absences it can be difficult for you as the employer to decide when to act, you must give the employee the benefit of the doubt to a point but can't be taken advantage of by an unprofessional staff member. Many HR professionals use a system called 'The Bradford Factor' which has proven to be one of the most successful ways to decide this.
The Bradford Factor: To work out the Bradford factor of an employee you need to times the number of instances within a year times by the number of days in total they have been absent.
For the Mathematicians among you, this is the equation used to work this out –
A = is the number of occasions of absence over a given period
B = is the total number of days' absence over the same period
Bradford factor = A x A x B
For example:
David has only had 1 absence over 5 days so these equals out at 5 points (1 x 1 x 5)
Sarah has had 5 absences over 10 days so this equals out as 250 (5 x 5 x 10)
This system is legal as long as you set reasonable trigger points, there is nothing stopping you from taking action against repeated instances of unauthorised absences using a mathematical formula. HR Software company OneHR makes use of this system, suing an inbuilt Bradford Factor System that alerts you when someone reaches a limit and requires a warning or similar action. This can make it easier for you to keep an eye on absences without having to calculate and keep track of employees records yourself.
For your information here is a table showing the Bradford Factor System and its different levels, provided by BradfordFactorCalculator.com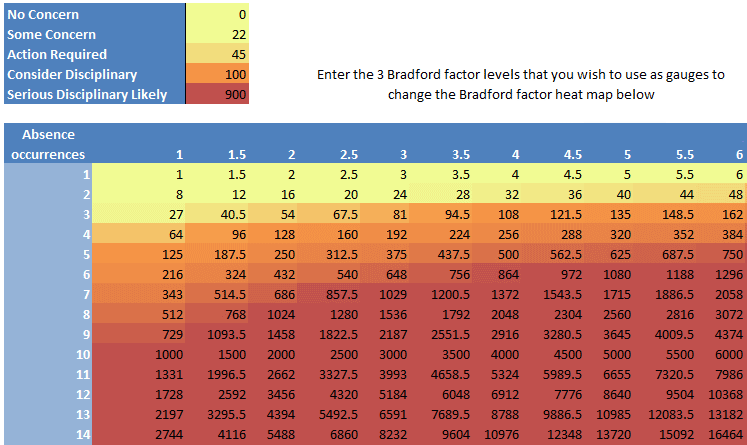 Calculating these various allowances and absences is hard work and important for your company to be successful in the long term, please take advantage of any tried and tested systems as well as HR Management help if you feel you are currently falling short or not getting the best out of your business.
For advice and guidance from a UK leading specialist in Employment law, HR and Health and Safety Services, please contact HPC on 0843 509 4543.
For efficient and easy to use HR Software, designed specifically to help your business manage it HR systems, then please call OneHR on (+44)8435096857.